Thursday, October 28, 2010 , Posted by ASIF SAHO at 1:48 AM



PDFill package contains the complete applications, including tools for FREE PDFill PDF and Image Writer Free PDF and trial version of PDFill PDF Editor. Below you will find on these 3 programs:
1) PDFill PDF Tools -
PDFill PDF Tools is a free suite without a watermark, the most powerful and useful to the world of free PDF tools. It offers many tools for PDF files as split, merge, rotate, Encrypt PDF, watermarked PDF files, or edit PDF files, etc. All are 15 tools in a program of the Internet, it definitely easy to use.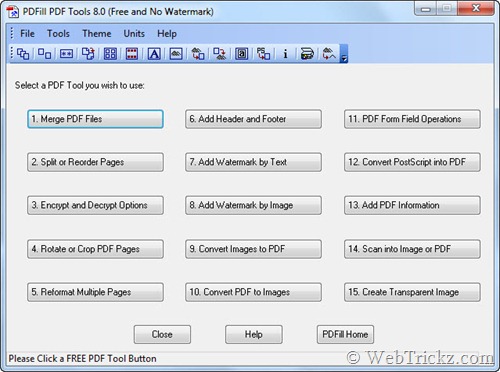 Listed below are 15 tools in PDFill PDF Tools included with their function:
1. Fusion - Fusion of two or more PDF files into one PDF file.
2. Split or new - Preview pages from a PDF in a new file. Rearrange the pages into a new file.
3. Encrypt and decrypt with Security Options - Protect PDF files with passwords and prevent PDF files from printed, copied, modified, filled, extracted, signed, assembled or merged. Supports Adobe Standard 40-bit encryption and Adobe Advanced 128-bit encryption.
4. And crop rotation - Rotate a PDF page in degrees 0, 90, 180 and 270. Crop a page layout of print ads or by changing the margins.
5. Fitness - Set up multiple pages in one page to save paper and inks for printing on paper. Add a note lines for distribution.
6. Header and Footer - Add headers and footers to display information such as date, time, page numbers, document title at the top or bottom of a document.
7. Watermark with stylized text - add text stylized Stamp.
8. Watermark by Image - Add Stamp using image file (bmp, jpg, gif, png, tiff and WMF).
9. Convert images to PDF - Convert images (bmp, jpg, gif, png, tiff and WMF) in a PDF file with layout options.
10. Convert PDF to images - Save PDF pages into images (png, jpg, bmp, gif, wmf, and TIFF) with DPI options.
11. PDF Form Fields: Delete, Flatten, List - delete, flatten, or list fields in a PDF form PDF.
12. Let PostScript (PS) PDF file - Covert PS files to PDF files can be read as Adobe Reader.
13. Added information - add information (title, author, subject, keywords, created, creator, producer, version) PDF documents.
14. Free Scanner - Scan your paper photo or image file (PNG, JPG, BMP, TIF, GIF) or PDF.
15. Creating Transparent Image - Create a transparent image with options to set the transparency options
2) Image PDFill PDF Writer and Writer (free) -
PDF Writer lets you create high quality PDF from any printable Windows application such as Microsoft Word, PowerPoint, Excel, CAD, and more. A PDF button can be added using the "Advanced" button in Microsoft Word, PowerPoint and Excel to PDF to save a single click. It also offers many options for saving PDF file.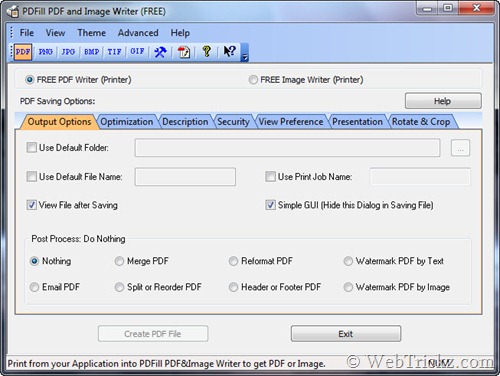 Image Writer as a virtual printer driver that allows your document as an image file (PNG, JPG, BMP, TIF, GIF) with options for resolution, Alpha-Bits, rotate, flip, issuance and control of Registration print installed.
3) PDFill PDF Editor
The trial version of PDFill PDF editor is also included to extend the processes and powerful tools for a PDF file without Adobe Acrobat to edit. The free trial version generates watermark edit PDF files.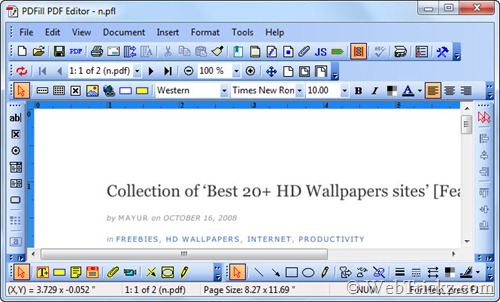 Download PDFill Package [9.1 MB]